A little piece about this web site
(updated 12 January 2016)
This web site has few pretensions to be anything other than an opportunity for people who know me and know my work, to see and (I hope) buy my photographs, and to read my blogs. In time, I also want it to become a showcase for some of the artwork and landscape photography I've been doing over the last few years.

The galleries on the site contain low resolution copies of the photographs. I supply higher resolution versions to order. I'm happy to supply to anyone, so please don't copy the low resolution pictures or use them without permission! I don't like having to over-print photos with my web address etc, but in some cases, I've had work ripped off so often, I felt I was left with little choice.

Please note that I no longer supply prints of my work. It has simply become uneconomic for me to do this in the small batches involved. You can find out how to obtain photos from me here.

And a piece about me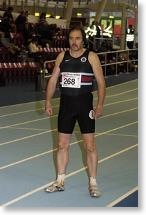 Photo by Jeremy Hemming

I do all kinds of things, some well, some badly. Many of them involve my cameras.

I've been a runner for about as long as I can remember – certainly since primary school. I was a half-decent Senior sprinter, during the 1970's and early 1980's, winning Club and County titles, and taking part regularly in Britain's Southern League. A very bad back injury in 1982 put paid to that, but because my rehab involved lots of walking, I came to spend more time extending my passion for some of the mountainous areas of Europe, and especially the Dolomites of Northern Italy. I was eventually lucky to have the opportunity to work there regularly and, for many years, to lead groups for a well-known, and now sadly deceased, holiday company.


My promise (to myself) to get running fit enough to run a full marathon when I was 40 didn't happen, for a host of reasons. Mind you, when I was able to run again, I put in some good half-marathon times during the "fun running" boom of the late 1980s! It wasn't until May 2001 that I finally felt strong enough and brave enough to train specifically for sprints again, and eventually go back on to the track to see if I could still run fast. It was one of the delights of my life to discover I still could, nearly 20 years after thinking my sprinting days were finished. The moral is "never give up hope!"

By 2004 I'd realised that I was actually quite competitive in my Masters age group at a national level. March 2006 found me, wide eyed and innocent, at the World Masters Indoor Championships in Austria. I was pretty pleased to be part of the silver medal-winning GB 4x200 metres relay squad. I was a finalist in the 100 metres in the European Masters in Poland later in the same year. I've won gold with the Great Britain relay team in the European Masters Indoors in Helsinki in March 2007 and Torun in Poland in 2015, gold outdoors at the World Masters in Italy in 2007, Finland in 2009 and France in 2015, and also at the World Masters Indoors in France in March 2008. In 2009, I was 5th in the World Masters 100 metres final in my age group, and 4th in the 200 metres final, missing out on a medal in the latter by just two hundredths of a second!

Seems like I came back pretty well from a couple of lean years in 2012 and 2013, courtesy of a bad foot injury. I'll consider myself privileged if I can continue for a few more years competing as a Master. In March 2015, I was utterly delighted to achieve 5th place in both the 60 metres final and the 200 metres final at the European Masters Championships in Poland, and to run the lead-off leg for the gold medal-winning Great Britain 4 x 200 metres relay quartet. Later in the year, I raced at the World Masters Championships in Lyon, France, in August 2015, and ran the lead off leg for the Great Britain 4x100 metres relay team there. My contribution to the team was described by Athletics Weekly Magazine as "sensational". We became World Champions again.

2016 began well. I won my first ever individual British Masters title in Match, winning the 60 metres at the British Championships. A few weeks later, after gaining 6th place in the European 60 metres final, I ran lead-off leg for the British 4x200 metres relay team at the European Masters Championships in Ancona, Italy, which won a silver medal.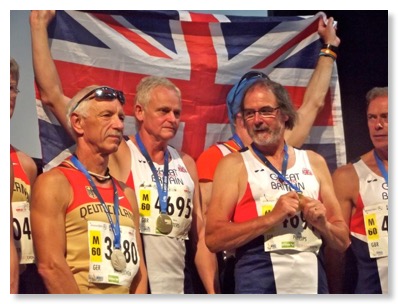 Gold in Lyon! I seem to be the only one who is happy about it! Photo by Jenny Stevenson

Where cameras came into it all is a bit less clear. I remember using my mother's Box Brownie when I went on primary school outings. Those photos are sadly lost. Since then, I've owned at least one camera, and often several at any one time, since my teens. I started to get the occasional mountain photograph published in outdoor magazines, and applied myself diligently to trying to capture on film what the mountains meant to me. The digital camera revolution changed many things. It opened up the chance to bring "the athletes eye" to track and field photography. It's great fun, and a lot of hard work, especially if I'm shooting and racing at the same venue! I am keen to use my photographs to try to see Masters athletics get the recognition it deserves. Away from the track, some of my landscape and mountain photography is still done on film, using several large and occasionally heavy medium format cameras. Stay tuned for news of my new exhibition of landscape, in November 2016!


Since leaving "real" work in 2011 I have been very active as a freelance cameraman, and have also taken on all manner of jobs as a volunteer photographer for local charities. Because of the nature of a lot of what I'm shooting in this role, not much of the stuff features much on this site, but it is keeping me very busy. I have some wonderful clients. I am particularly happy to work with the Heart of Kent Hospice, and there is a page about that here.

I am an accredited photographer for the British Masters Athletics Federation, for the European Masters Athletics Association, and for World Masters Athletics. I'm also a regular contributor to several magazines and photograph my local Parkrun every weekend. I've been described in an article as "The fastest cameraman in the world". Who knows? I don't know who else might be in the running, as it were! I'll try to hang on to that title for as long as I can.

I also write an occasional blog about being a Masters athlete. This has also given me the opportunity to write about my experiences with clinical depression, particularly from the point of view of a sports-person. Writing that stuff has been, at different times, both a real challenge and a great release. It has been great to receive messages of support from other athletes who are having, or have had, their own encounters with depression. It has also been very humbling to know that some have taken strength from some of my written ramblings!

In 2013 I started an additional blog, telling the story behind some of my landscape and "cityscape" photographs, which you can read here.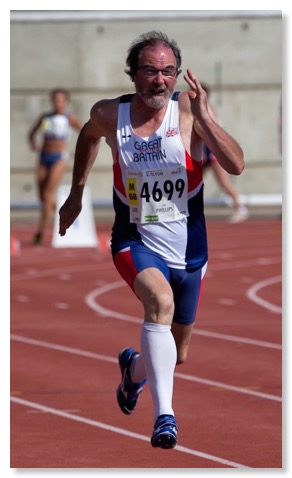 Here is a very rare photo of me, at full speed!
It's rare, because I am usually the one taking
the photos!
Thanks to Alex Rotas for this picture


By contrast…..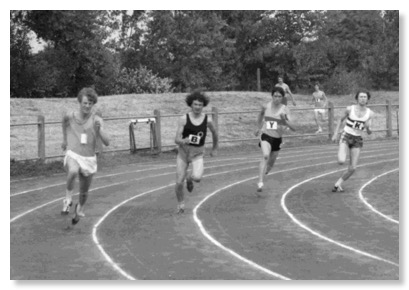 By way of incriminating evidence, I offer this picture of me
(black vest, big hair), racing in Southern League at Croydon Arena
in July 1976. How simple it all looked then!
Thanks to my long-time friend Steve Cluney for the picture