Pro Cycling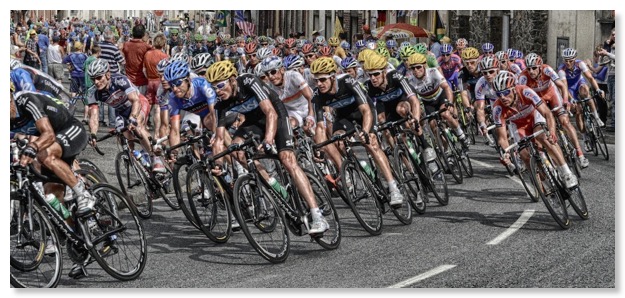 The Sky Team lined out in a crowded peloton, Tour de France 2012 in Ham, France.


I can date my interest in professional cycling accurately to around the Tour de France in 1968. I had a Saturday job with Sainsbury's and worked alongside a guy who was a very well-informed cycling fanatic. Strangely, though, and because I live in Britain, it was many years before I actually got to see any pro racing live, up close and personal.

To celebrate the opening of the Channel Tunnel, it's often forgotten that the Tour de France held two stages through Kent and Sussex in 1994. I rode 60 miles from home, finishing at the top of Ditchling Beacon, to watch one of those stages, and rode home again! Unfortunately, a camera was not something I could be bothered to carry on that long day.

I made up for it later, and from the late 1990s onwards, I regularly visited the Northern French and Belgian Classic races - Paris Roubaix, The Tour of Flanders, and the like. And, of course, I never missed a chance to grab at least one stage of the Tour de France when it came within reach. During my times in Italy, I also watched bits of the Giro d'Italia a few times, though seldom with a camera that could shoot action.

These were the "Armstrong Years". I followed most of the Tour in 2005 (and had an epic trip!) as an Armstrong fan. I am angry and hurt at how those many of us who really wanted to "believe" have subsequently found they had been duped by massive, organised dope cheating. Sure, no one thought it was all clean, but many believed the 1998 "Festina" affair had exposed the worst. Nowadays, I watch with a carefully-honed sense of scepticism. I am persuaded that many riders are now doing this clean, though.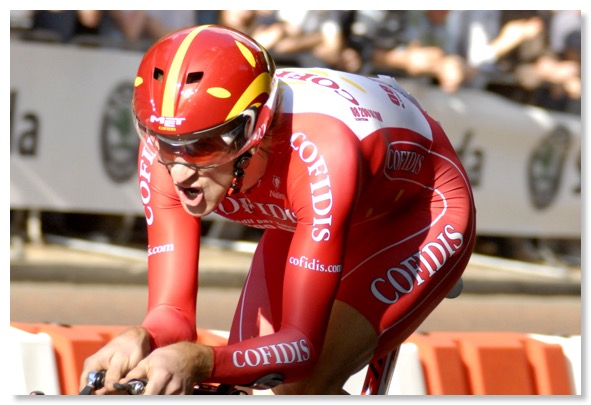 Bradley Wiggins (then riding for Cofidis) in the Tour de France Prologue Time trial, London, July 2007

I've been dithering about whether to put up a Pro Cycling section on this site for a long time, for reasons connected with the sport's reputation. However, I've had good critical reaction to some of my more recent material, and even a number of very welcome sales of items I've posted on-line elsewhere or on display. My biggest problem is that before 2006, everything I shot was on film. I have the negatives and many prints, but, sadly, they are not catalogued awfully well, and organising them will be a huge challenge.


Therefore, I decided to start with recent material from 2014 (coincidentally 20 years since I watched that Tour de France make Ditchling look easy), try to keep up to date with what I see, and gradually add older stuff as I find time and energy.

I had accreditation as a photographer for the Tour's Prologue Time Trial in London in 2007. I didn't seek it for the next day's stage through Kent, because the race came right past the end of my street. About as good as it gets for a fan like me!

So, here we go:

Paris - Roubaix April 2014
I try to get to see Paris Roubaix as often as I can, and have two favourite viewing points, separated by a mad dash on country back roads. 2014 was a very dry race, though the filthy dust got everywhere. This is a selection of 17 of my favourite shots. I've not been able to get to any of the more recent Paris Roubaix races, sadly.
Click here to see the photos

Tour de France 2014, shots from Stages 4, 5 and 6
I reasoned that the stages in Northern France were far nearer home for me than Yorkshire, and there wouldn't be any language problem. It meant I also got to shoot some action on the now infamous Stage 5 on the French cobbles, too. This is a selection of 30 or so of my favourites.
Click here to see the photos

Team Time Trial, 2004 Tour de France
A trip down memory lane to a day when I stood beside an almost deserted road between Arras and Cambrai in Northern France and watched as the Tour de France Team Time Trial splashed past me. These shots were taken on film and have been scanned and edited for the web. I managed to keep the camera dry, but got soaked to the skin myself. That's Jan Ullrich on the front of the Telekom squad. Mario Cipollini is very visible in the Domina Vacanze photo, and in the US Postal shot, Floyd Landis is in second spot, with George Hincapie third from back, and the team's main drug cheat sheltered at the rear.
Click here to see the photos

Tour de France 2015, shots from Stages 3, 4, 5 and 6
I had the best part of a (mostly) warm and sunny week with the Tour as it swept through Belgium and Northern France, but having left booking my accommodation late meant I travelled quite a few more miles than I'd intended. Best photos in this little set are those I took on the final section of cobbles on Stage 4, from Seraing to Cambrai. I got a dream spot to shoot from!
Click here to see the photos