Wild Skiing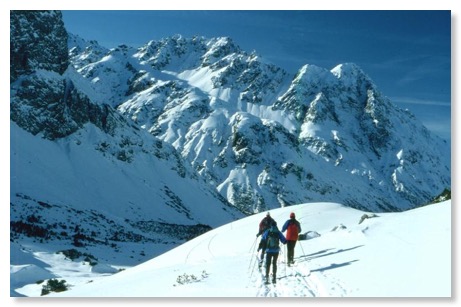 There was a time in the 1990's when I was very much into back-country and cross-country skiing. I was fortunate to be able to lead holidays for a now sadly defunct specialist holiday company. This gave me the opportunity to ski in the wilds of Norway, off the beaten track in Switzerland and Austria, and on the beautiful cross-country ski trails in Northern Italy. The generic term often used is "cross-country skiing". However, people tend to associate that with recreational or racing skiing in the valleys. I've had the opportunity to get out into the mountains on skis too, and my preferred description is "Wild skiing".

At one time I was also maintaining a massive library of cross-country skiing photographs to be used for publicity purposes. The gallery I've added to this web site contains what I think are some of the best photos from that collection. I hope you enjoy them too.

This is not skiing as it is normally portrayed. I've not had an opportunity to get back out on skis for a few years now.

View the gallery

Please click the link in blue above to see the photographs. In the gallery, click on any photo to see a larger version of it.