My Blog - 2007


I started blogging about Masters Athletics stuff in 2007.

This is the text of the earliest three entries:


It all depends on the relays!
In my younger days, this is what we always seemed to say when a track and field league meeting went down to the wire. This is about the European Masters Indoor Athletics Championships in Helsinki in March 2007. These were the first championships at which I won a gold medal.


Now, I'm no duffer when it comes to languages, but it threw me that you needed to know a bit of Finnish in order to get the ticket machine for the metro system in Helsinki to work in English. I think that was my first and lasting impression of the place – what a bizarre language. I picked up just one word of it the whole time I was there. "Kitoss" means thank you. So, when a tot of about ten years old took my basket of warm up gear away, I naturally said "Kitoss". "You can talk to me in English", she replied (in perfect English!)

The stadium was very accessible by metro, so long as you caught the right one. It was literally at the top of the stairs from its own station. That would have been a real boon if the Helsinki weather had been as cold as predicted, but we were pleased to find the place no colder than the UK had been when we left it. Beware February, I'm told. Very cold, dark and miserable. It's the cold and dark that give Finland its persistent alcohol problem – even at the high price the stuff sells for. Three of us got stranded in the city centre on Saturday night, after the metro had stopped working "early", because the clocks had gone forward. This gave us ample evidence that, whatever their reputation as a sporty nation, getting off your head in Helsinki is a popular pastime too. Particularly for the girls.

The Liikuntamylli (see what I mean) Indoor stadium was a bit of a conundrum. First impression was that it made 200 metres look like a long way. That was a) because the lanes were quite wide, and the bends anything but tight, and b) because there was no point in the hall where you could actually see all the way round the track! You may be familiar with the pillars that run down the middle of the Kelvin Hall track in Glasgow. Imagine these only wider and larger, coupled with four foot wide air conditioning ducts. The track had been laid on a giant concrete dish. There were bumps and dips that make Picketts Lock's over-stated problem look like precision engineering, but few mishaps.

The configuration of the track had the six lane sprint straight laid out to the outside of the main oval, parallel to the finish straight. The result was that there was no spectator seating at all along the finish straight. It was all round the first bend and along part of the back straight and the beginning of the second bend. After that, as you charged your way round, it all went eerily quiet until you passed the finish line. Few spectators could get a good view of close finishes. There was a fairly rapid public address system for results, but rather poor acoustics, and no big scoreboard.

The six lane sprint track at Picketts Lock made for wickedly tight qualifying conditions in the BMAF national Championships. Six lanes and many more entrants in Finland made Picketts Lock look generous. All the sprints were heats to semis to finals, even where numbers would have justified another round before the semifinals. The result might have been the same in the end, but a few athletes might have got more out of their trip. Despite running a season's best 60 metres, I was pleased with my heat, made the semi, but then was in the deadly position of only being seventh fastest from the semis. I missed out on a place in the final by a mere 1/100th of a second. Had it been a normal eight lane straight, I'd have been in. Oh well, c'est la vie, as the Finnish don't say.

When I wasn't warming up, warming down, eating or lying comatose on the massage table, I was working trackside as a photographer. The "official" photographers didn't seem to be as busy as Lesley Richardson and I, and we had our run-ins with officialdom in the early stages. Access to photograph the 60 metres finals was very fraught. I ended up with a personal minder. I think his job started out as trying to make sure I didn't go where the boss official didn't want me to stand. He ended up being quite useful at keeping others out of my line of sight!

The etiquette of trackside photography is that however partisan you may feel, you need to keep it bottled up, or risk getting thrown out for illicit trackside "coaching". Very difficult when it's one of your own B&B club-mates inching closer and closer down the straight to a European title.

About as hard to understand as the Finnish language were the rules about lane order in semis and finals. I ran in lane six in my 200m heat, and was pleased to come second in a new indoor PB. It was the fifth fastest time of the day as well. I thought that second would give me a good semi-final lane draw too. The favoured lanes were three, four and five. Imagine my dismay at finding that it got me lane six in my semi final. Immediately inside me were the guys who were third and fourth fastest overall in the heats. Even our Team Management had trouble understanding how, with just two to qualify for the final from each of three semis, one semi final had been constructed that would ensure one of the six fastest runners from the heats was going to be eliminated.

And yes, it was me. Despite another indoor PB, the others had me to run off and I was pipped for second place. Even more galling was that second place in one of the other semis went to someone who strolled over the line in a non-competitive race, almost half a second slower than my own semi-final time. And his time in the final was slower than my semi time, too.

Masters indoors involves a 4 x 200 metre relay. Places in any of the GB squads are hotly contested and Management has even had to draw up selection criteria in recent years. I was still smarting from being fifth man for three different squads in the European Masters outdoors in Poland last summer. I felt that, as fifth fastest M50 at 200 metres in these championships, I'd earned a place on the squad as of right. We actually had three of the five fastest just in the GB team, such is the depth of M50 sprinting talent in Britain at the moment. A place on the team meant a pretty good stab at a gold medal too. And as it was a re-match with the Germans, who had beaten us in the World Indoors in Austria last year, there was some added needle. I made the squad.

If I'd spent all of the day of the relays by the track photographing the action, I'd have stood to be standing (so to speak) for over twelve hours. The relay was at twenty to nine in the evening, so I was glad to grab a couple of hours sleep in a quiet corner of the stadium. Less glad to miss seeing a few finals, but when I emerged to warm up, I felt fairly ready to go. Running order and tactics became clear during warm up. The Germans were putting their top two athletes on the first two relay legs. We needed to stay in touch and hope that our best two, on legs three and four, could overcome any early damage.

We had the usual nervous discussions about baton changing techniques in a 4 x 200 race and agreed what we'd do. The photos show that when it came to the race, we reverted to instinct, and didn't do what we agreed at all! Then came the race itself.

The last few minutes before the off were so busy there was little real time for nerves. Wally was away well, but pitched against Germany's silver medal winner in the individual 200, a gap quickly emerged. Down to me to make sure it didn't get any bigger. Possibly a tall order, as my German opponent was third in the individual 400m, and would therefore know how to run a strong lap. He had several metres on me on the first bend, which I intentionally ran wide, mindful of almost stumbling on the curve in Linz last March. Off that bend, the screams of the GB team and fans seated there were a total inspiration, and the chase was on. I was a couple of metres down going into the second bend, but felt terrific. I pulled wide coming into the home straight. There was no time to catch or overtake, however. A clumsy changeover and I staggered off to the infield to watch the race unfold. Actually "crumple" would be a better word from the German point of view. Steve had won the individual 200 and 400 races, and was soon past their man, giving Eric plenty of daylight. As individual 200m silver medallist, that was enough for him, and he cruised home well clear.

By then I was dry-mouthed and hoarse from yelling. This was it – my first gold medal in a major international championship.

I wasn't prepared for what came next. I don't think any of us were, or for the cruel twist. We we'd linked arms for the customary winning team pictures when a Finnish official came over and said "It is world record". Icing on the cake. The win was what counted, but being the best M50 squad ever? How did that feel? We nearly didn't get a medal presentation due to administrative oversights and over-runs, but it was great when it happened. Special winners t-shirts too. "Not another blooming t-shirt" was my wife's first comment!

The cruel twist? Twenty four hours later we were home. I was curious to know what the record was before we'd beaten it, and looked on the WMA web site. I felt a bit numb reading that an American squad had run a fair bit faster than us a few years previously, and that our time wasn't even a European record. Why the official had said what he said, we don't understand even now. On the bright side, it was good for a day to feel that I was a world record holder. Next time, I hope it won't come as such a shock.


Article © Tom Phillips 2007
________________________________________________________________________________


Riccione through the lens

The World Masters Athletics Championships in Riccione, Italy, in September 2007 were my first world outdoor championships. I was there both as athlete and photographer. So much happened that I needed to keep a short diary to remind myself. This is basically that diary.


Monday.
Arrive. Ooh, nice and warm, too. I could get used to this. Seems our tour operator has managed to persuade the Riccione organisers to start the Opening Ceremony parade in the evening from right outside our hotel. Good to see old faces (I mean that kindly). The Kiwi Team Manager tells me that their guys want to dance a haka, but are a bit shy. At a point that the parade slows to a crawl, with the Kiwis right in the middle of the local shopping mall, I sense the time is right for a photo opportunity, and talk them into it. Actually, they don't take any persuading at all! Opening Ceremony speeches 1/10, "erotic dancing" on-stage cabaret (what, you missed it?) 5/10, firework display 10/10 (or so I'm told) I'd gone to bed by then.


Tuesday.
8.45am BIG storm blows up from out of nowhere. Cold, rain and a severe gale. Cross country races get cancelled. "Softies", say the decathletes and heptathletes, whose starts were merely delayed, meaning that they compete until after midnight in some cases.


Wednesday
. Another storm over night wreaks havoc with the tented village at the main stadium which houses various concessions and information tents. This is just a couple of hours after they had rebuilt it following Tuesday's storm. The decathletes finish after midnight again, in some cases having only done three events yesterday, and taking on seven today. Big respect!


Thursday
. I run a rubbish 100m but still find that a time just 0.01 faster got through to the semis. No excuses. Join the ranks of the paparazzi at trackside. Well, Lesley Richardson, Canadian Doug Smith and me, (see photo below) with occasional appearances by the official meeting photographers. Have to wear a fetching green bib to work trackside. I say "I feel like an office cleaning lady". "I know where I could get you one", says a colleague who will remain nameless.


Friday.
Courtesy of yesterday's poor race, I have the whole day at my disposal to photograph the semis and finals of the 100's. Much delight at Helen Godsell's W50 silver medal and Kirstin King's W40 win. Spend from 8.30am to 9pm on my feet, ending up taking pictures of the M65 5,000m in a nearly deserted stadium, thus missing the last shuttle bus back to the town. Even on evenings with competition scheduled until late, these stop at 8.20. One of many organisational shortcomings for which the Riccione Worlds will no doubt become notorious.

What a good thing that…Saturday …was a rest day, unless you were involved in the re-scheduled cross-country races. I spend as much time as possible with my feet up, drinking coffee and doing both simultaneously.


Sunday.
Tom's big day. Win my 200m heat in a new PB. Buy a new hat to fit new head, see the medics for work on "sprinters bum" (aka piriformis syndrome), and see out the day photographing the 800m finals at the Misano stadium, an hour's bumpy shuttle bus ride from the main stadium. Lucky to blag a taxi ride back to Riccione with some Yanks afterwards, as there were about 300 people waiting for shuttle buses that "officially" stopped running half an hour before. Some got home after midnight.


Monday.
What, week two already? Got knocked out in the 200 semis, but ran my second fastest time ever. Job done. Back on with the green pinny, and loads of fun behind the camera again. Stood a bit close to the finish of an M50 200m semi and get a real shock to see how fast we sprinters really move! Have the honour today of adding pictures to my portfolio of shots of the M85 and W85 and above athletes.


Tuesday.
My wife and I visit Urbino. We've wanted to go there for ages. It rains.


Wednesday
. All morning at Misano photographing the 400m qualifying rounds. Take one set of shots from the start of the back straight, then jog to the finish line for more. Thus, for every heat, I run 100m, and as the older age groups went first, and the races get progressively faster, and I have to jog faster. Reckon I did 50 x 100m reps that morning, carrying about 10 kilos of camera gear, and the green bib. Afternoon covering the hurdles qualifiers at Riccione. Very bored officials start getting fussy about where the photographers can and can't go. Get very hacked off, accidentally set my flashgun to the wrong setting, and take a load of indifferent pictures. I've got blisters from this morning, too.


Thursday.
San Giovanni stadium by rickety bus to photograph some 10,000m races, and meet a load of friends I'd not so far bumped into. Manage to get most of my shots from a picnic chair beside the track. My feet are grateful. Then 400m semis at Misano, and another 25 x100m reps getting the best shots.


Friday.
A day I'll long remember for the sheer sporting excellence I saw at Misano, with the 400m and 1,500m finals. Hard physical effort to photograph them all, but great to be at trackside and be amongst the first to congratulate or commiserate. Such a shame that this Worlds has to work on split sites, as we hear snippets of great hurdles competitions going on at Riccione at the same time. I've made the sprint relay team for tomorrow, but can't drag myself away for an early bed. Bus back from the stadium dangerously overloaded.


Saturday.
Tom wins a gold. Run lead off for the M50 sprint team, and we win. Actually, it isn't as simple as that, as three others have a hand in it, of course. It was close, but hey – World Champion! And it was the Germans and Yanks we beat, too. Pity that the organisers cancel the medal ceremonies for a two and a half hour lunch-break, and we never do get to stand on the podium. My feet don't hurt as I work at trackside that afternoon. I don't actually think they touch the ground!

And then it is all over. I find myself with a PB, a gold medal, 4,000 photos, blisters, photographer's stoop, a complimentary green pinny, and face-ache from two weeks of the best sort of fun a body can have.


Article © Tom Phillips 2007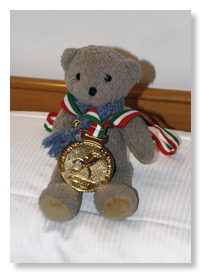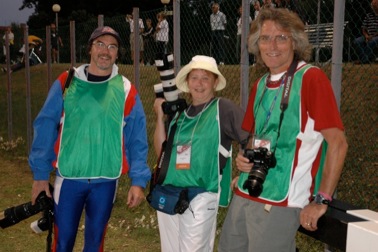 ________________________________________________________________________________


The Nature of Inspiration
I started writing a few articles for the SCVAC magazine "The Southerner". This was an early one. I guess it deals with a recurrent theme in my writing—why we (or I) do what we do.


I used to have the largest paper round in London. Officially. These days, if they held a competition like the one I won, to see which 14 year old carried the most newspapers for the longest time, before dawn, month in, month out, for below subsistence payment, the NSPCC would no doubt make a dawn raid. I just put up with it, though, from 13 to almost 18. I was well-read too as a result, but always seemed to have a bucked back wheel on my bike. Is this a reason I could run a bit? More likely the root cause of my back trouble, but it's only incidental to the point of this article.

I set world records for completing that paper round in October 1968. The reason was that I was desperate to get home to see the BBC coverage of the Mexico Olympic Games. Conveniently, the highlights programme was before breakfast, and I could usually watch all the track action before cycling off to school on the afore-mentioned pedal bike. As a means to maintain suspense, and complete the deliveries that bit quicker, I even tried to avoid reading the Olympic news I was carting around. Difficult when Bob Beamon jumped out of his socks and on to every front page, and David Hemery won 400 hurdles gold, but mostly I was able to watch the grainy late 60's black and white transatlantic broadcasts with teenage obsession and wonderment.

To me and my contemporaries, now in M50 or thereabouts, if they are still at it, the names are legend and household: Hines, Smith, Carlos, Evans, Keino, Ryun, Beamon, Hemery, Sherwood, Davenport, Besson, Board, Fosbury, Sanyeev, Szewinska, Sylvester. Need I go on? I found the coverage at the time by Athletics Weekly a bit academic, and that of "Athletics Arena" (remember Charlie Elliot's "Arena"?) too obsessive, but on a school day trip to Calais early in the next Spring I bought a wonderful copy of "Athletisme 69" (long before that title might provoke any teenage sniggers), and my devotion to these athletes became complete. Brilliant photographs, of a quality and quantity an English 15 year old couldn't obtain anywhere else.

That magazine and I were seldom parted – I have it still – save for those precious weeks when kindly stars we kids met training at Crystal Palace agreed to take it with them to overseas fixtures, and get otherwise unobtainable autographs for some of the pictures. I've been for ever in Paul Nihill's debt for autographs obtained at the European Championships in Athens in 1969, and to the lovely, late Lillian Board for hawking the magazine round the ladies changing rooms after one international meet at the Palace!

There's no doubt in my mind now that British success inspired we youths to train that much harder - especially when we were sharing a track on a Sunday morning with David Hemery. It's easy in these days of instant gratification and football team strip mimicry to be cynical about the nature of inspiration, but back then, it was very real. To the youth of 2007, I suspect that today's football heroes are tomorrow's forgotten men, but "my" stars inspire me still. On those increasingly rare occasions when the BBC shows flashbacks to Mexico*, such hairs as remain on the back of my neck still rise. I know why I ran then, and know why I run still, even though my own athletic endeavour never came close to those levels. Not emulation, but a sense of shared endeavour.

Article © Tom Phillips 2007
* My favourite flashback
http://www.youtube.com/watch?v=PRoYE39KdT4