The European Veterans Athletics Championships 2008
Nyiregyhaza, Hungary
15 to 24 July 2010


Wow, Nyiregyhaza was HOT! Temperatures were regularly above 32 degrees C, with humidity at about 95%! This relatively unknown corner of Eastern Hungary made a good job of running the championships.

I can't say I had a particularly good time myself, in a sporting sense. I ran a very poor 100m heat, and didn't trouble the finals. My 200m semi-final left me in 9th place overall, so no final, yet again. This left me outside of contention for the relay, as well.

Nevertheless, life on the track, behind the camera was very busy indeed, and my galleries below capture the people, and the best of the action I saw each day. Usual apologies to those I missed, especially the race-walkers. Your turn will come!


_____________________________________________________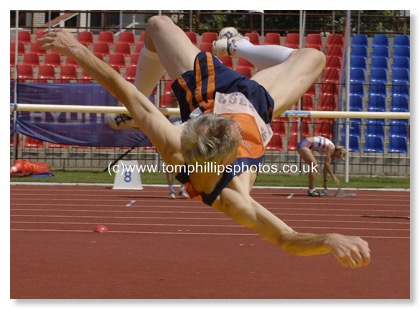 _____________________________________________________

Opening Ceremony, Wednesday 14 July 2010

You either like these things or you don't. The towns-people of Nyiregyhaza liked this one, and turned out in big numbers.

Pictures here

_____________________________________________________

Thursday 15 July 2010

The first day of the Decathlons and Heptathlons, and very hot conditions for 10,000 metres races.

Pictures here

_____________________________________________________

Friday 16 July 2010

Day 2 of the multi-events, and a very late finish for some. First rounds of the 100m today. In my case, best forgotten! Depression and big championships do not mix!

Pictures here

_____________________________________________________

Saturday 17 July 2010

A great day's sport, particularly for the sprinters. Fantastic atmosphere in the stadium in the early evening warmth.

Pictures here

_____________________________________________________

Sunday 18 July 2010

The morning was interrupted by a huge storm! Masses of jumps and throws throughout the remainder of the day.

Pictures here

_____________________________________________________

Monday 19 July 2010

A big gallery!
A very, very hot day. 400m qualifying competition and the 1500m finals, the latter spoiled by insensitive decisions by officials to DQ some athletes.

Pictures here

_____________________________________________________

Tuesday 20 July 2010

A quieter day, with the morning free from competition. Good 400m finals and 5,000m races in the afternoon and evening.

Pictures here

_____________________________________________________

Wednesday 21 July 2010

The 200m competitions began. I made it to the semis, next day! Several hotly contested 5,000m races at the second stadium too.

Pictures here

_____________________________________________________

Thursday 22 July 2010

The 200m semi finals kept me busy all morning, but I just missed making it to the final. Great hurdles finals later on.

Pictures here

_____________________________________________________

Friday 23 July 2010

Mostly the 200m and 800m finals today. Very busy for the working photographer!

Pictures here

_____________________________________________________

Saturday 24 July 2010

Relays all day, and a host of medal presentations. Sadly, I missed one of the day's world age group records while waiting to run! Actually, bureaucracy kept me out of the team I was due to run in.

Pictures here

_____________________________________________________

Closing Ceremony
Saturday 24 July 2010

I still wonder what happened to the third parachutist?

Pictures here

_____________________________________________________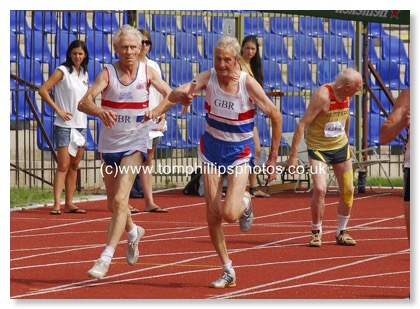 _____________________________________________________