The 1st European Masters Games
Malmo, Sweden,
30 August to 6 September 2008


This was a really good, well-organized event, made up of more than a dozen sports. Well done to the organizers! It was an example of how well a small international meeting can be organized. I hope that the next EMG, in Italy in 2011 carries on the tradition.

I had a very good time myself, as part of a small squad of about 30 British athletes present. I was delighted to win the M50 100m and 200m gold medals.

I covered almost all of the track and field events with my camera when not racing, but had to return to the UK the day before the marathon and half-marathon races, so these are missing from my coverage.


_____________________________________________________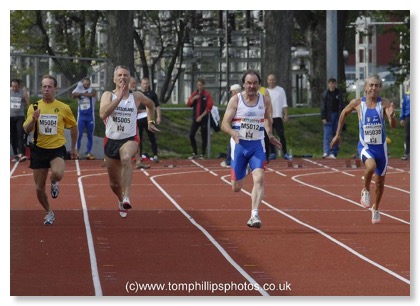 _____________________________________________________

Saturday 30 August

The first day of the decathlon and heptathlon, plus 10,000 metres track events. There are also a few photos from the EMG Opening Ceremony that evening.

Click here to see the pictures

_____________________________________________________

Sunday 31 August

The conclusion of the multi-event competitions, plus the 800m events and women's 10,000 metre races. The sun shone all day.

Click here to see the pictures

_____________________________________________________

Monday 1 September

Mostly a day of field events, hurdles and track walks. A wonderful sunny day.

Click here to see the pictures

_____________________________________________________

Tuesday 2 September

Make way for the sprinters! I won 100m gold. Thanks for holding my camera, Ingrid. Some great 1,500m races, too!

Click here to see the pictures

_____________________________________________________

Wednesday 3 September

So much happening in the stadium! Hurdles, 400m, 5,000m, long jump and javelin competitions.

Click here to see the pictures

_____________________________________________________

Thursday 4 September

I overslept and was too late for the women's 10k walk, but covered all of the men's 20k road walk races.

Click here to see the pictures

_____________________________________________________

Friday 5 September

The grace of the throwers today. I won 200m gold later in the day, but then had to rush to the airport to get home, so no photos of that. Sorry, sprinters.

Click here to see the pictures

_____________________________________________________